Democrats Nancy Pelosi and Chuck Schumer boycotted a meeting between congressional leaders and Donald Trump after the president said "I don't see a deal", suggesting he would not negotiate with them on spending, healthcare and immigration.
Trump said he was "not surprised" that the Democrats refused to attend the White House meeting and called them "weak" on crime and illegal immigration.
"They've been all talk and they've been no action, and now it's even worse. Now it's not even talk," Trump said, speaking from the Roosevelt Room, where he sat between to empty chairs with placards for Pelosi and Schumer. "They're not showing up to the meeting."
Senate majority leader Mitch McConnell and House Speaker Paul Ryan were seated at opposite ends of the large conference table. Ryan called it "regrettable" that the Democrats couldn't attend; McConnell said he couldn't recall "ever turning down" a meeting with the White House.
Pelosi responded to Trump's comments on Twitter, saying that his "verbal abuse will no longer be tolerated".
In an earlier statement, the two Democratic leaders said that instead of meeting the president, they intended to negotiate directly with their Republican counterparts in an attempt to avert a government shutdown next month.
Schumer and Pelosi said: "Given that the president doesn't see a deal between Democrats and the White House, we believe the best path forward is to continue negotiating with our Republican counterparts in Congress instead.
"Rather than going to the White House for a show meeting that won't result in an agreement, we've asked Leader McConnell and Speaker Ryan to meet this afternoon. We don't have any time to waste in addressing the issues that confront us, so we're going to continue to negotiate with Republican leaders who may be interested in reaching a bipartisan agreement."
Their decision not to attend the meeting followed a morning tweet from the president:
But Republican leaders McConnell and Ryan dismissed the Democrats' offer and challenged them to attend the White House meeting if they wished to negotiate over a spending plan.
"We have important work to do, and Democratic leaders have continually found new excuses not to meet with the administration to discuss these issues," the two Republicans said. "Democrats are putting government operations, particularly resources for our men and women on the battlefield, at great risk by pulling these antics. There is a meeting at the White House this afternoon, and if Democrats want to reach an agreement, they will be there."
The White House press secretary, Sarah Sanders, said the meeting would proceed as scheduled with McConnell and Ryan.
"The president's invitation to the Democrat leaders still stands and he encourages them to put aside their pettiness, stop the political grandstanding, show up and get to work," Sanders said.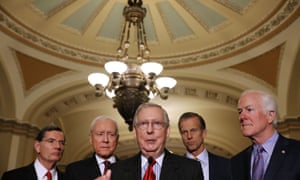 The meeting was intended to discuss the year-end spending bill to keep the federal government running and avert a shutdown.
When the pair met with Trump to discuss government spending earlier this year, the president unexpectedly sided with "Chuck and Nancy", infuriating Republicans.
He and the Democrats made a deal to increase the debt limit and finance the government through early December. That deadline is now coming up.
As McConnell prepared to leave for the meeting at the White House, he said Pelosi and Schumer's protest demonstrated a "lack of seriousness".
"I never refused to go to a meeting that President Obama called, a bipartisan meeting," McConnell said. "It never occurred to me that I could just say to President Obama I'm not showing up. That strikes me as a lack of seriousness about the matter before us."
Following McConnell to the podium, Schumer defended their decision and implored the president to "stop tweeting and start leading".
Schumer said: "With his tweet this morning, the president made sure that the meeting is nothing but a photo-op. These issues are far too serious for these kinds of games."
Powered by WPeMatico