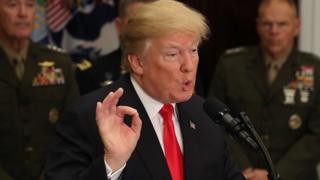 US Republican lawmakers say they have agreed to a deal paving the way for the biggest overhaul of the country's tax system in 30 years, US media report.
There has been no full announcement but reports suggest a plan to bring the US corporate tax rate down to 21% from the current 35%.
The top individual income tax would also reportedly drop to 37% from 39.6%
Senate Finance Committee Chairman Orrin Hatch told reporters: "I think we've got a pretty good deal".
President Trump campaigned on a pledge to cut taxes, and passing legislation would mark a significant victory.
He appeared on Wednesday with several middle-class families he said would benefit from the overhaul in a final push for the tax plan. Mr Trump said he would like Congress to send him a bill by Christmas.
Republicans in the the US House of Representatives and Senate agreed at a policy luncheon on a deal to merge their two tax proposals into one bill for Mr Trump to sign into law, according to US media reports.
The 21% rate of corporate tax is above the 20% rate President Trump has previously called for. Reports suggest the reduction will come into effect in 2018, rather than in 2019 as the Senate version had proposed.
Democrats argue that the tax cuts will favour only the rich, offer little to the middle class and add as much as $1.5 trillion to the $20tn national debt over 10 years.
The nonpartisan Joint Committee on Taxation and the Congressional Budget Office have both said wealthier taxpayers would benefit disproportionately from the cuts.
Concerns have been raised by both Republicans and Democrats over the impact of the tax cuts on government borrowing.
Final passage of the bill could still be difficult, but Republicans hope to hold a vote on the tax bill next week.
However, Democratic Senate Minority Leader Chuck Schumer has called on Republicans to delay the vote until Alabama's next senator, Democrat Doug Jones, arrives in Washington.
Mr Jones defeated Republican Roy Moore for Alabama's senate seat in a special election to replace US Attorney General Jeff Sessions on Tuesday.
"It would be wrong for Senate Republicans to jam through this tax bill without giving the newly elected senator from Alabama the opportunity to cast his vote," Mr Schumer said.
With Mr Jones in the Senate, Republicans will hold a razor thin 51-49 majority.
Bringing the bill to a vote this month would allow Alabama Republican Senator Luther Strange, who was appointed to temporarily fill the vacant senate seat, a chance to vote on it.
The Senate passed its initial version of the plan with one vote to spare, after Republican Senator Bob Corker said he could not support it due to its impact on the national debt.

Go to Source
Author:
Powered by WPeMatico